I've always had a problem with hats. I have an abnormally small head you see and I have trouble finding a hat that doesn't look huge on me. I'm usually to be found slyly checking out the children's range in Accessorize, trying to pass off something that looks like a pink marshmallow as the latest trend in headwear. I've tried and failed in the past with many a hat wearing phase- the trilby, the fedora and don't even get me started on the beret. I would look back at the pictures afterwards where you couldnt see my eyes or where I'd embarrassingly tried to kirby grip the side to my short hair and I realised that I just wasn't and would never be a hat person...
I envied those young hipsters who could wear a bowler hat on the very back of their carefully styled to look like they dont care hairstyle and be all non chalant about it. But I accepted it and moved on and I knew better than to attempt anything other than a well tied silk scarf on holiday.
Thats why I was completely thrown by my discovery of the wooly beanie hat... I guess to give credit where it's due it was really down to GB that I even stepped back on the hat wearing horse and this is probably the one single piece of fashion advice which I have taken from him in our three years together (and may well be the last). He loves a beanie hat... Literally LOVES them. Sometimes I don't even recognise him without one. (like from far away on the street or something, not when he is standing right in front of me- that would be weird) It's also one of the few clothing items I know him to be truly picky about - they have to be snowboarding beanie hats and they have to be the correct brand. I once made the mistake of buying him a
Topman
one I was convinced he would love and I don't think he has worn it once despite the fact it looks almost identical to the
Neff
ones he wears every day.
Anyway his beanie hat love must have worn off on me as slowly I started to venture back into hat wearing. I started tentatively with a little sequin pull on style which was elasticated so couldn't fall off, then a similar shape in wool with beads all over. Then I found a little red bobble style in a vintage shop
Out of Town
which was hand knitted and the only one of it's kind- it was tiny so fitted my head perfectly and before I knew it I was back in the shop a week later picking up a cream style from the same knitting company even though it was twice the size. Last Christmas I fell for the hats with animal faces on trend, first came the bear then the panda got opened on Christmas morning. I even tried the not quite a hat ear coverer thing.
This winter I went all out and purchased a bright pink neon style from H&M which is extremely 'look at me' for a non hat wearer. I must be cured! You can see all in the gif below...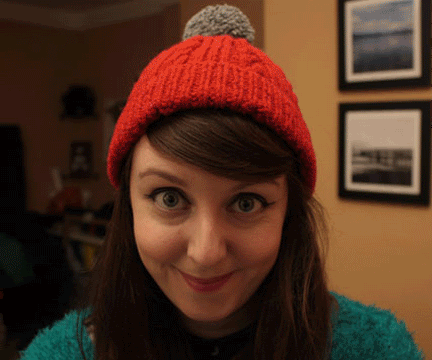 My latest addition to the pack is my new red glitter wooly number kindly hand knitted by GB's mum this Christmas. (In top pic above - yes the one where I look slightly deranged and have chin fat. I'm getting really good at this modelling malarky)
Perhaps I am finally clear of my hat fearing ways... Just don't try and make me wear a fedora.
Are you a hat person? How do you wear yours?
BB
xxx